Created by
Georg Jaindl
, last modified by
Lawrence Niu
on May 29, 2019
Introduction
---
ScanImage features a photostimulation module. If your microscope has two independent scan heads, they can be used for simultaneous and independent imaging and photostimulation.
Definition of multiple stimulus groups + independent triggering
Built in editor to set up stimuli and timing
Built in Cell picker GUI for for semi-automatic or manual cell segmentation

Live monitoring of delivered stimuli and power

Error rendering macro 'html' : Notify your Confluence administrator that "Bob Swift Atlassian Add-ons - HTML" requires a valid license. Reason: VERSION_MISMATCH
Dual Scanheads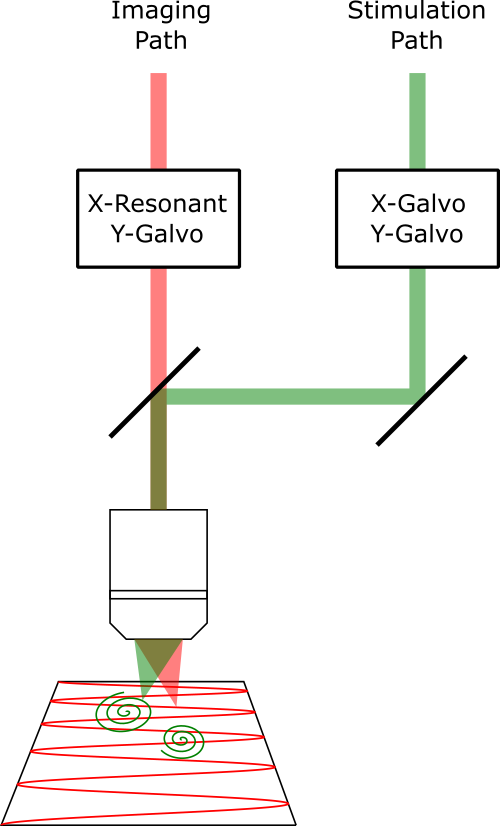 Dual Scanhead setup for ScanImage 2015. Two independent scan heads allow for simultaneous imaging and photostimulation. A dichroic mirror combines the two scan paths into the same objective.
ScanImage Photostimulation Requirements
---
The minimum requirement to use the Photostimulation module is a microscope with a galvo-galvo scanhead. Resonant-galvo scanners are not supported for photostimulation. A microscope with a resonant-galvo-galvo scan head is supported. In this case, the resonant mirror is shut off during stimulation. The galvo control board must be an X-series national instruments DAQ. A pockels cell is also required for the stimulation laser.
A microscope with a single scan path can use the photostimulation module, but stimulation cannot happen simultaneously with imaging. Imaging must be aborted before stimulating, then can be resumed after the stimulation is complete. If it is desired to accomplish simultaneous photostimulation and imaging using a microscope with a single scan path, the power box feature may be effective.
ScanImage Photostimulation can be most effectively utilized by a microscope with dual scan paths, as depicted in the figure on the right. This setup allows simultaneous imaging and stimulation with complete spatial and temporal independence.
Using the ScanImage Photostimulation Module
---
Effectively using the Photostimulation requires 3 main steps:
Scanner Alignment: Accurately targeting cells for stimulation using a dual path microscope requires precise alignment. This step ensures accurate registration between imaging and stimulation. This step is only needed when using dual scan path microscopes.
 
Creating Stimulus Groups: This step is where you create stimulus patterns that define the path for the stimulation laser to follow in order to target the desired cells.
 
Triggering Stimulus Groups: This step is where you actually command your desired stimulation patterns. Flexible options are provided to enable triggering these patterns from software events or external signals.
In addition to these core functionalities, monitoring and logging capabilities are available. More details about these features can be found at the following link: Monitoring and Logging
Attachments:

concept.png
(image/png)